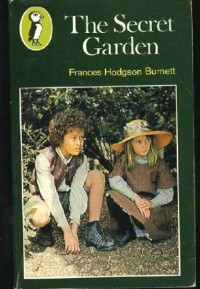 READ BY SEVERAL GENERATIONS
My mum was given a copy of this book by her mum. Mum gave me a copy, and a few years ago I gave a copy to my niece.
The Secret Garden is probably my favourite book by Frances Hodgson Burnett (well, it is set in Yorkshire after all). She wrote very believable characters and put them them through some awful situations. Mary Lennox is such a disagreeable child at the beginning of the book, but the reader knows why she's so unlikeable and feels her pain and confusion.
She is angry at the world and reacts in the only way she knows, by being utterly vile to everyone, but then she discovers the garden and the kindness of the people around her and begins healing not only herself, but Colin and his father too.
By the way, the edition of the book attached to this post was published in 1975 to coincide with the BBC TV production that year. And that is the edition I have. And here it is. It's holding up pretty well considering it's nearly 40 years old.