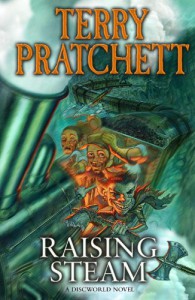 LAST BOOK I BOUGHT IN A BOOKSHOP

Aha! I certainly remember this one.
Most of my book purchases these days are for my Kindle (though biographies and cookery books are usually ordered in hardback from Amazon), and my husband prefers audio books mainly because he has a long commute and it helps relieve the monotony of his journey.
We also have very different tastes in what we read, but there are a couple of authors we both enjoy, and don't want to wait for the audio book to be released or to get in line for the library book and have just two weeks between us to read it. And that is why I went to the bookshop and bought Raising Steam by Terry Pratchett.